---

About Steven Pease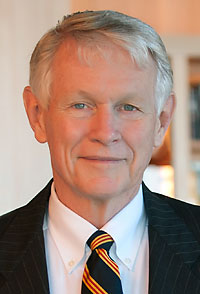 A CEO specializing in turnarounds, a venture capitalist, and a community activist, Steve Pease has traveled much of the world in the course of heading up public and private companies as well as not-for-profit organizations.
Born and raised Presbyterian in Spokane, Washington, he is a Phi Beta Kappa graduate of the University of Washington with a master's degree from Harvard Business School. He currently serves as cochairman of the U.S. Russia Foundation for Economic Advancement and the Rule of Law, and Chairman of The U.S. Russia Investment Fund. Both are nonprofit entities, organized by the United States government to work with Russians, encourage entrepreneurship, civil society, and the rule of law, while also improving the U.S.– Russia relationship.
He is also active in the community affairs of the small wine-country town of Sonoma, California, where he lives with his wife, Joyce.
"Golden Age is my tribute to an astonishing tribe of high achievers. Even more, though, it is an exploration of how more of us can achieve and contribute as well. We need not have Jewish genes to appreciate and learn from their performance."